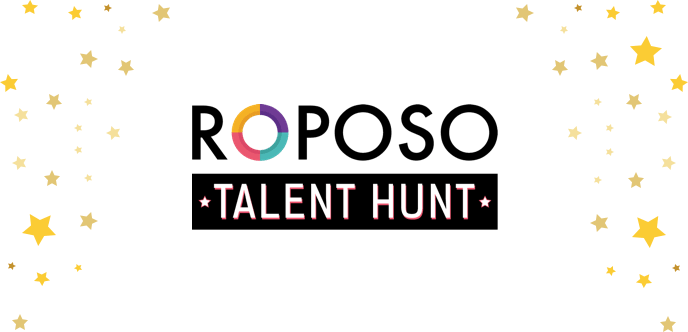 Frequently asked questions (FAQs) for Talent Hunt
What is the eligibility criteria for Participation?
Anyone of any age and any background can register and participate in the Talent Hunt.
How do I Register?
You can register by following the below mentioned steps:
Log on to www.roposo.com/talent-hunt.
Click on the Register Now button.
Fill in the Details mentioned in the form.
Click on Register.
Create posts with #RoposoTalentHunt on Roposo app and showcase your talent.
What is required to be submitted for registration?
You are required to create a profile on Roposo and register in the category of your choice by filling the registration form with basic details.
Can I register as a group?
A candidate can register in a group or solo, but there should be one unique profile representing the group.
How many categories can I participate in?
One candidate can participate in one category only. If you are multi-talented, we have a category for that where you can show your multiple talents.
I couldn't find my talent category in the list, what should i do?
You can register under the "Others" category. We would love to see your hidden talent.
When does the Registration close?
Registrations will close on 30th November 2017 23:59 hours.
How will the winners be selected?
The selection process of the winners will be decided by the jury selected by Roposo in each category and the number of votes you receive.
When will the results be announced?
Once the contest ends, our experts will take some time to decide the winners and we will communicate accordingly.
Are there any elimination rounds?
No, there are no elimination rounds.
Where will I get votes?
You will get votes on your profile for the content you upload.
Where can I see the number of votes I have received?
You can see the votes you have received on your profile.
How many posts shall I upload to win?
Posting regularly will increase the chances for you to win. Pro tip: Post more videos.
What are the prizes?
One grand prize worth Rs. 1 lakh and category prizes of Rs 30000. We also have weekly rewards.
Can I win both Grand Prize and Weekly prize together?
Yes, you can win both but the selection of the prize will be decided by the Jury and the number of votes you receive.
Where can I see all the other entries?
You can see all the featured entries in the Talent Hunt channel which is shown on the Home Page.
Where can I see other participant's votes?
One cannot see votes received by other participants.
How will I receive my prize?
Once the winners are decided, we will disclose and communicate the process to claim the prizes accordingly.